PRAGUE, 26 October 2023 – Cushman & Wakefield and CMS present the key findings from the fourth edition of their joint report on the hotel investment scene in CEE: Getting Real about ESG in Hotel Real Estate. Download the report: 2023-Hotel_Investment-report-in-CEE
Hotel investment is bouncing back
Hotel investment activity in the CEE-6 region reached EUR 464 million during the 12 months ending June 2023, despite a notable increase in financing costs and the ongoing economic and geopolitical challenges. This is 74% more than in the previous 12-month period. Between H2 2022 and H1 2023, 23 hotels comprising almost 3,000 rooms were sold. With several significant deals in progress, this year's transaction volume may reach EUR 563 million by the end of 2023, nearly 30% more than in 2022. Investor appetite is fuelled by the strong recovery in hotel performance across the region, with revenue per available room (RevPAR) surpassing 2019 levels by 6% in H1 2023.
Magsud Rahmanov, Head of Hotel Transactions, CEE & SEE, Cushman & Wakefield: "In the hospitality sector across the CEE-6 countries, transactional activity between H2 2022 and H1 2023 was boosted by increasing pressure on owners to dispose of or refinance their assets, and investors to deploy accumulated capital – but also by improving hotel performance. Despite lower occupancy than H1 2019, ADR growth lifted CEE-6 capitals' RevPAR above pre-pandemic levels in H2 2022–H1 2023, and the CEE region's upward trend is set to continue: while ADR growth will ease, rising occupancy will help sustain positive RevPAR momentum. The combination of stabilizing inflation, improving hotel performance and the return of international investors – particularly from Asia and the Middle East – will likely drive a further uptick in hotel sales over the next year. We have several deals in progress that confirm this trend."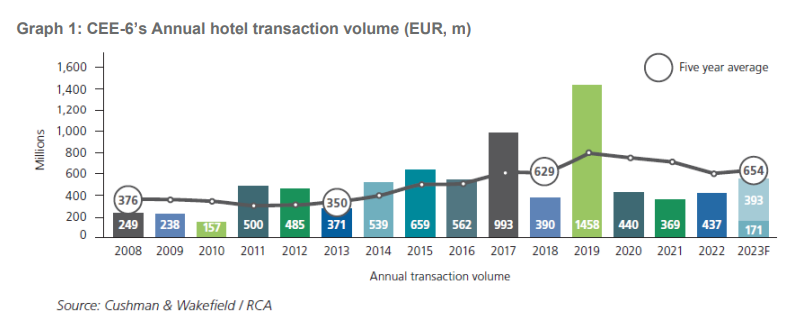 (Not just) Investors seek sustainable hotels
According to Cushman & Wakefield's research, half of hotel investors in CEE already address ESG in their transaction due diligence, and 40% are in the process of including it. The reason is strengthening regulation and the opportunity to increase the value of assets – as well as the threat of potential issues during transactions. Over 50% of investors encountered ESG-related challenges while conducting hotel acquisitions and disposals. For approximately 35% of investors, this resulted in significant financial consequences, surpassing half a million euros. In the CEE region, the surveyed hotel investors had not yet encountered such a major impact; however, 60% were exposed to non-financial or minor monetary issues (below EUR 500,000).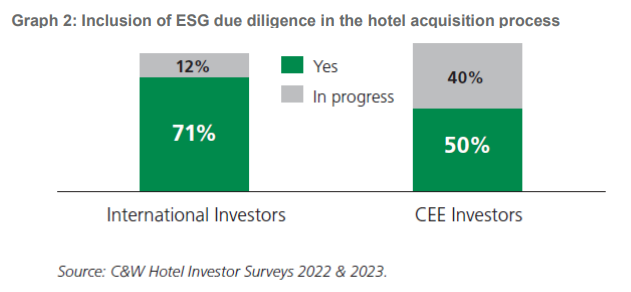 ESG as a benefit for business
For those who are proactive and take the lead in ESG, there is potential to increase the value of hotels by driving higher revenue, reducing utility cost, and enhancing attractiveness to investors with the expected "green premium" at 6% for hotels with the highest ESG credentials.
Based on Cushman & Wakefield's research and experience with energy audits, hotels can notably reduce energy and water consumption by implementing sustainability measures. According to the latest Cornell Hotel Sustainability Benchmarking Index (CHSB 2023), the average final energy consumption for a sample of 31 full-service hotels in Warsaw, Prague and Bucharest was 166 kWh per occupied room in 2021, while the 25% most efficient hotels had about 41% lower energy usage at 99 kWh per occupied room.
Reducing energy usage has become even more relevant due to recent price increases. According to HotStats data[1], energy costs in hotels across Eastern Europe accounted for 3.9% of total revenue in H1 2019, increasing to 7.2% in H1 2023. On a per-occupied-room basis, the utilities expense increased from EUR 4.6 to EUR 9.0 over that period, a 95% increase. This reduced hotels' gross operating profit in Eastern Europe by about 9.1%, and by 4.6% in the Czech Republic. Unsurprisingly, hoteliers are looking for opportunities to mitigate this impact.
Notable savings can also be achieved in water consumption. The CHSB 2023 Index indicates that the average water consumption for a sample of 28 full-service hotels in Warsaw, Prague and Budapest was ca. 520L per occupied room in 2021, while in the 25% most efficient hotels it was about 37% lower at 328L.
In addition, ESG as a standard used to measure a company's long-term impact on the environment and society is important in the hospitality sector as it further supports talent attraction, innovation, brand value enhancement, and opportunities for better financing. Sustainable hotels can also get better commercial terms from operators. And, importantly, increasing EU regulation will also affect hotel owners.
Lukas Hejduk, Head of Hospitality, CMS: "ESG is not only a moral imperative, but also a key driver of value creation and resilience in the hotel industry. As the expectations of guests, investors, and regulators evolve, hotel owners and operators need to adapt and innovate to meet the growing demand for sustainable and socially responsible practices. The EU is dynamically developing legislation to promote the green transformation. Several legal acts have already been adopted to strengthen the effectiveness of reporting on environmental, social and governance issues. These will have a direct impact on the financial sector as well as on the hospitality sector, because stakeholders will increasingly assess the ESG performance of hotels."
Note: For a timeline and details of the EU's key ESG legislation, see pages 54–62 of the report.
[1] Based on 2018/2019 HotStats data for Warsaw, Prague, Budapest and Bucharest.
Lack of formal eco-certifications
A wide range of various eco-labels exists in the hospitality sector, with their quality and reliability also varied. For example, across the key CEE cities, over 60%[1] of hotels boast the Travel Sustainable badge on the Booking.com platform. However, this may reflect only a limited number of impactful sustainable practices, and the hotels' sustainability claims are not verified. In fact, only a few hotels can support their sustainability claims with recognised ESG certifications granted by independent third parties. For example, about 7% of hotels across major European markets have ESG certifications recognised by Google Travel (BREEAM, LEED, Green Key, Green Globe, Earth Check, GSTC, etc.).[2] The share of hotels with these eco-certifications is even lower across most CEE cities: less than 5%, except in Warsaw, which is among the top 10 markets, with nearly 10% of hotels having these ESG credentials.
ESG certification driven by international brands and institutional investors
Warsaw's relatively higher share of eco-certified hotels is an exception in CEE, where the overall level is low due to shallow brand penetration, high fragmentation, and low institutional/international ownership.
David Nath, Head of Hospitality, CEE & SEE, Cushman & Wakefield: "Branded and large hotels typically target international corporate and MICE demand that appreciate formal eco-certifications. Also, many renowned operators and tenants encourage owners to get a certification, and some even have their own sustainability programmes. However, most hotel markets in CEE have a relatively low brand penetration. Further, most hotels are relatively small and in older properties, frequently historical buildings, which makes it more challenging to achieve a satisfactory certification level. The exception is Warsaw, where many hotels are branded and relatively modern." 
Institutional investors tend to have strong ESG policies, sometimes including compulsory certification of their real estate portfolio. However, many hotels in CEE are privately owned. Institutional investors active in the region, such as Union Investment, Deka, Invesco and Accor Invest, primarily own hotels in Poland, which explains its current higher share of certified hotels.
However, the major local investor groups across the broader CEE region are also ramping up their sustainability strategies: 70% had an ESG policy and the remainder were working on it as of 2022. This, combined with the further proliferation of institutional investors across CEE, should result in a rise in certifications in the hotel sector.
The path towards sustainability: Challenging but viable
To comply with increasing requirements from investors, regulators, and other stakeholders, hotels in the CEE region will need to notably reduce their carbon footprint and energy intensity. According to energy reduction pathways in the latest Carbon Risk Real Estate Monitor (CRREM) tool, which many institutional investors and other stakeholders use, the carbon intensity of hotels across the CEE-6 countries is expected to be reduced by ca. 17% by 2025 and 53% by 2030, and this assumes the hotels meet the 2023 targets, which might not be the case. Similarly, the energy intensity of hotels in the CEE-6 countries is expected to be notably reduced, on average, by about 11% by 2025 and 35% by 2030. This is relative to 2023 thresholds, ranging between 177 kWh per sq m in Bulgaria to 231 kWh per sq m in Romania.
The good news is that there are hotels that show these notable reductions are possible. For example, the energy intensity of the top 25% of hotels in the CHSB 2023 sample of 52 hotels in Poland is at 125kWh per sq. m., which is below the CRREM thresholds for 2030 at 141 kWh per sq. m.
Bořivoj Vokřínek, Strategic Advisory and Head of Hospitality Research, EMEA, Cushman & Wakefield: "This data shows that while the expected energy intensity reduction pathways are challenging, they are achievable. Furthermore, there is also an option to generate renewable energy onsite or purchase green energy, which would reduce the carbon footprint of hotels and help them to comply with the decarbonisation pathways despite higher energy intensity."
The full Cushman & Wakefield and CMS report Getting Real about ESG in Hotel Real Estate is available for download at https://www.cushmanwakefield.com/en/czech-republic/insights/hotel-investment-scene-in-cee .
 About Cushman & Wakefield
Cushman & Wakefield (NYSE: CWK) is a leading global commercial real estate services firm for property owners and occupiers with approximately 52,000 employees in approximately 400 offices and 60 countries. In 2022, the firm reported revenue of $10.1 billion across its core services of property, facilities and project management, leasing, capital markets, and valuation and other services. It also receives numerous industry and business accolades for its award-winning culture and commitment to Diversity, Equity and Inclusion (DEI), Environmental, Social and Governance (ESG) and more. For additional information, visit www.cushmanwakefield.com or follow our Linkedin account.
[1] Based on the number of hotels available on Booking.com for a booking in October 2024 (All hotels vs Travel Sustainable hotels, data retrieved on 15 August 2023).
[2] Based on the number of eco-certified hotels on Google Travel divided by the total number of hotels in the city as reported by STR (data retrieved on 15 August 2023).