Bucharest, January 2019: Large retail chains operating mainly in shopping centers maintained an average growth rate of 12% in 2018, similar to 2017 and double the advance in consumption, which increased by 5.9% during the first ten months of the year, according to the second edition of Retailers' METRICS study by Cushman & Wakefield Echinox,.
The study examined the expansion and turnover growth of 88 retail companies operating stores under more than 100 international and local brands in FMCG, Fashion, Electro-IT, Cosmetics, Sports, Footwear, Kids and Toys, Jewelry, Food and Beverages, Home & Deco and Bookstores.
The surveyed retailers had more than 5,054 stores at the beginning of 2018, and they expanded their networks by adding 487 new units over the year, compared to 522 openings in 2017. In regards to the financial performance, the cumulative turnover of these companies is estimated at 15.37 billion euros in 2018, representing a market share of almost 40% of the total estimated turnover of the retail sector.
Cristi Moga, Head of Research, Cushman & Wakefield Echinox: "The 2018 evolution shows that large retailers with tens or hundreds of stores continue to gain market share both organically and by expansion. Even if 2018 was not a breakthrough year in terms of deliveries of new retail space, and the few openings were also concentrated in the last months of the year, most retailers have found resources to grow based on wage increases and purchasing power, inflation and also online commerce."
Compared to 2017, the pace of expanding retail networks has slowed down in most sectors, both due to limited space options and the continuation of the optimization process by a number of retailers.
The largest turnover increases are expected for retailers selling children's articles (39%), clothing (17%) and Home & Deco products (16%).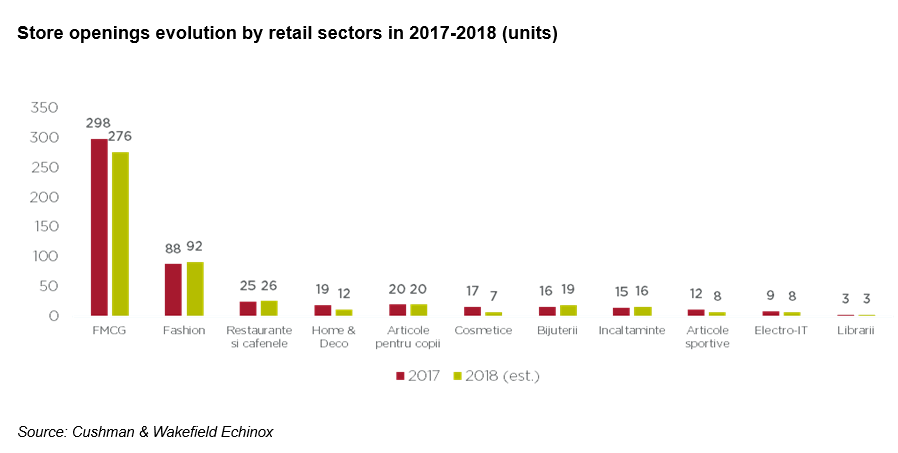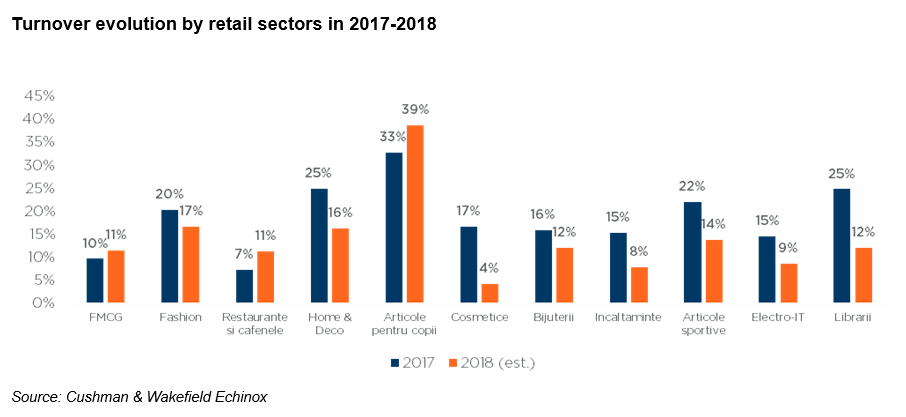 Cushman & Wakefield Echinox is a top real estate consulting firm on the local market, active in all real estate market segments. The exclusive affiliate of Cushman & Wakefield in Romania, owned and operated independently, with a team of over 60 professionals and collaborators, that offers a full range of services to investors, developers, owners and tenants across all segments of the real estate market, including the residential market. For more information, visit our website www.cwechinox.com
Cushman & Wakefield is a leading global real estate services company with 45,000 employees in more than 70 countries, helping owners, occupiers and investors to optimize the value of their real estate. Cushman & Wakefield is among the largest commercial real estate services firms with revenue of $6 billion across core services of agency leasing, asset services, capital markets, facility services (C&W Services), global occupier services, investment & asset management (DTZ Investors), project & development services, tenant representation, and valuation & advisory. To learn more, visit www.cwechinox.com .