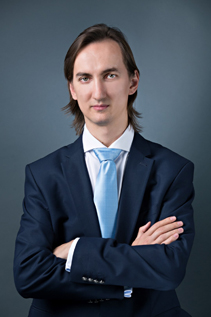 Cushman & Wakefield Echinox announces the promotion of Cristi Moga as Head of Research Department.
Cristi joined Cushman & Wakefield Echinox (CWE) in October 2015, acquiring expertise in research and analysis in retail, residential, office, industrial and hospitality segments. During the last three years, Cristi was involved in more than 40 customized studies, delivering strategic solutions for development and investment projects worth +€ 1 billion.
With his new role, Cristi will coordinate the Research department of Cushman & Wakefield Echinox, being responsible for the public reports and assisting the company's corporate and private clients with in-depth analysis.
Cristi started his career as a real estate journalist for Ziarul Financiar, one of the most prestigious business newspaper in Romania. Between 2006 and 2015, Cristi witnessed and covered as a journalist a full development cycle, publishing more than 5,000 articles (news, analysis and interviews) about real estate.
Cushman & Wakefield Echinox is the exclusive affiliate of Cushman & Wakefield in Romania, owned and operated independently. With a team of over 50 professionals and collaborators, offers a full range of services to investors, developers, owners and tenants across all segments of the real estate market, including the residential market.
Cushman & Wakefield is a leading global real estate services firm with 45,000 employees in more than 70 countries helping occupiers and investors optimize the value of their real estate. Cushman & Wakefield is among the largest commercial real estate services firms with revenue of $6 billion across core services of agency leasing, asset services, capital markets, facility services (C&W Services), global occupier services, investment & asset management (DTZ Investors), project & development services, tenant representation, and valuation & advisory. To learn more, visit www.cwechinox.com.