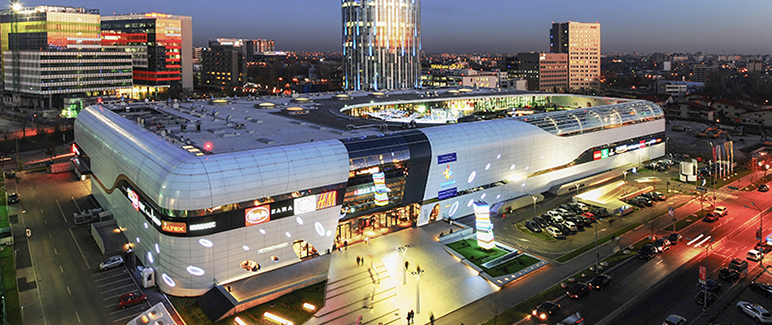 Old industrial factories, production and storage halls, grocery markets and inefficient office buildings with dozens of small rooms and few windows, which were mostly used by public institutions, have gradually been torn down, making way for shopping centers, modern office buildings and industrial and logistic parks, which reached 10 million square meters nationwide at the end of 2017.
This particular transition has taken place during the last 20 years, with two more favorable and faster growing periods, recorded between 2006 and 2009 and also between 2016 – 2017, with the prospect that during 2018 the aggregate deliveries of the three sectors could exceed 1.2 million square meters, almost reaching the record levels of 2008.
In 2017, approximately 750,000 square meters (about 205,000 square meters of office space, 75,000 square meters of retail space, and 470,000 square meters of logistics space) were delivered, projects that brought the overall stock at the level of 3.65 million square meters of retail space, 3.4 million square meters of office space and 3 million square meters of logistics and industrial spaces, a sector that will also see significant increases this year, when almost 50% of the spaces to be delivered will be in the logistics and industrial sector.
Three investors – NEPI Rockcastle, Globalworth and CTP – who a decade ago would be labelled as minor players in the local market, have reached a dominant position in the three sectors, with a cumulative portfolio of more than 2 million square meters rated and with a total value of approximately 2.5 billion euros.
NEPI Rockcastle, a group which emerged on the market in 2007 in Bucharest, started to invest in shopping centers in 2009 by acquiring the Promenada Braila project (the current Braila Mall), presently reaching a retail portfolio of more than 700,000 square meters and a market share of nearly 20% of the modern retail stock.
The group's portfolio also includes office spaces of about 150,000 square meters (4% of the stock), as well as two warehouses in Otopeni and Rasnov with a total area of almost 30,000 square meters, equivalent to 1% of the logistics stock.
Globalworth, a company founded in 2013 by Ioannis Papalekas, an investor who at that time had a rather solid track record on the domestic market as private investor, became the largest office owner during the past 5 years, with a portfolio of about 320,000 square meters located in Bucharest, representing 9% of the national stock and 12% of the Bucharest stock, with a strong emphasis being placed on the Barbu Vacarescu – Floreasca and Pipera areas.
Moreover, Globalworth owns two logistics parks with an area of ​​over 170,000 square meters located in Pitesti and Timisoara, having a market share of nearly 6% in this sector.
Last but not least, CTP, a group founded by the Dutch businessman Remos Vos in 1998 in the Czech Republic, has reached a local portfolio of 700,000 square meters of logistics space with a 23% share in the sector and solid growth prospects, according to the planned and the under-construction projects.
CTP opened an office in Bucharest more than ten years ago, but the group's portfolio has begun to develop only in 2015, just three years ago, when CTP started to build a platform that now covers ten cities all around the country.
During the SEE Property Forum 2018, held in Bucharest at the end of March, Dan Bucsa, the Chief CEE Economist of Unicredit Bank AG, London, drew attention to the fact that the United States has almost nine consecutive years of economic growth, the longest expansion cycle after those started in 1991 and 1961. The longest growth cycle lasted 10 years (1991-2001), and the analyst warned that a possible recession in the United States would also impact the European market, and Romania would not be able to avoid it.
In regards to the 3 investors and market leaders – NEPI Rockcastle, Globalworth and CTP – whose sustained activity in Romania began after the 2006-2008 boom, their records show that periods of respite or even market contractions open the ground for opportunities that cannot easily be accessed during periods of sustained growth.
Two questions with unpredictable answers: When will the window that was opened in 2016 close and Who will be best positioned to take advantage of the new context?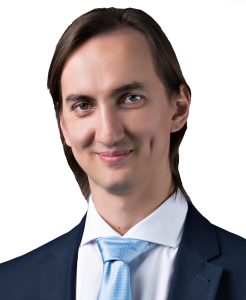 Cristi Moga
Research Consultant C&W Echinox
Cristi Moga joined C&W Echinox in October 2015, after a 10-year career as a real estate journalist for Ziarul Financiar, the most prestigious business newspaper in Romania. As a journalist, Cristi published more than 5,000 articles (news, analysis and interviews) about real estate. Since he joined C&W, Cristi focused on research and analysis in retail, residential and office segments.