Bucharest, June 2019: Romania was ranked fifth at a European level in 2018 regarding the deliveries of retail spaces in retail parks, being overtaken in this hierarchy only by France, Spain, Great Britain and Italy, according to the European Retail Park – What's Next report, realised by the consultancy company Cushman & Wakefield.
The report reveals that in 2018 in Romania there were delivered 76,000 square meters of retail parks, representing 73% of the new supply of modern commercial spaces given in use. The stock of retail parks on the local market is about 1.3 million square meters, similar to the one in The Czech Republic, a country with a population two times smaller, which indicates a potential for growth of the local market, according to the authors of the study.
Top of the countries according to commercial parks delivered in 2018 (sq m)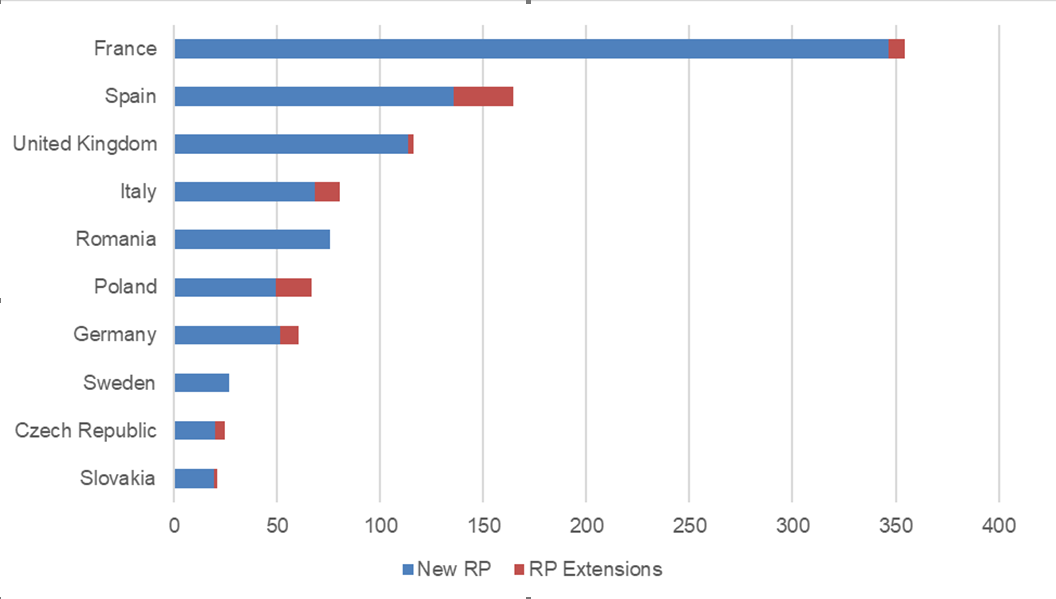 Sursa: Cushman & Wakefield
Looking in perspective, Romania will continue to be among the top 10 countries in Europe to develop this format of commercial projects, with retail parks operating in both large and small cities that cannot absorb a shopping center mall type.
Bogdan Marcu, Partner Retail Agency Cushman & Wakefield Echinox: "Although most of the deliveries in 2018 were mainly focused on retail parks developments, there is still room for further expansion on this segment in Romania. As convenience and proximity are becoming more and more popular, we expect to see more retails parks to be delivered in the upcoming years as complementary offer to dominant schemes. Considering a good evolution of the retail market and one of the biggest growths in sales in Europe, of 8% in the first part of 2019, the most active developers such as Prime Kapital or Mitiska REIM are constantly seeking opportunities to explore in undersupplied markets or markets with no modern retail schemes."
At a European level, the stock of retail parks increased by 2.2% in 2018, up to 50.1 million square meters, with almost 89% of the stock concentrated in Western European countries, where Germany, Great Britain and France remain the most developed markets. In Central and Eastern Europe, the largest markets are The Czech Republic, Romania and Poland, which cumulates 66% of the stock of retail parks in the region.
After deliveries of 995,000 square meters in 2018, the completion of new retail parks or extensions with a surface area of ​​1,4 million square meters is expected for 2019 – 2020, volume which could be supplemented by the development of projects that have not yet been officially launched.
Silvia Jodlowski, Senior Research Analyst, Cushman & Wakefield: "We observe two stories surrounding retail park development in Europe. In Western Europe, we are seeing the market slowly reach maturity, with many cities now having adequate provision. In Central and Eastern Europe, however, the retail park market is still in its infancy. The relative under-supply of retail parks in the region, coupled with their ability to operate in small catchment areas, indicate further growth potential for the format."
Cushman & Wakefield Echinox, the exclusive affiliate of Cushman & Wakefield in Romania, owned and operated independently, is a top real estate consultancy company with a team of over 60 professionals and collaborators offering a full range of services to investors, developers, owners and tenants across all segments of the real estate market.
Cushman & Wakefield is a leading global real estate services company with 51.000 employees in more than 70 countries, helping owners, occupiers and investors to optimize the value of their real estate. Cushman & Wakefield revenues of $8.2 billion come from core services of investment & asset management, capital markets, agency leasing, tenant representation, asset and facility services, project management, valuation & advisory. To learn more, visit www.cwechinox.com .