Home | Services | CAPITAL MARKETS
Our top-performing investment team with cross-industry experience provides investment strategies to solve the most complex real estate challenges and manages exclusive or co-exclusive mandates for the acquisition or disposal of prime real estate assets in Romania. We act locally, but we think and coordinate globally. The team's extensive track record includes advising diverse and complex transactions where new investors entered the Central and Eastern European (CEE) market.
We believe that every asset or group of assets is unique and we develop specific plans for your specific needs. We focus on maximizing your transaction's value while minimizing costs, ensuring the right capital is sourced for the right product in the right place. Our
We define the investment strategy and generate new investment opportunities, we provide a clear competitive analysis and transaction history of comparable assets, but also market studies regarding the evaluation and development conditions of the market. We lead you through the negotiations, financial scenarios and due diligence support, while also coordinating the external service suppliers.
We offer preparation and management of sales, development consultancy, access to a strong network of trusted investors and also to investors which are not already on the Romanian or European markets.
If you are looking to diversity your real estate portfolio or acquire a property investment for short, medium or long-term gain, we can identify the most suitable opportunities in the market, regardless of sector. We assist investors in a variety of disciplines, including office, retail, industrial, residential and hospitality. In addition to our capital markets expertise, we draw on our related capabilities in leasing, asset management, operations and valuation to create optimised and integrated solutions for clients.
CONTACT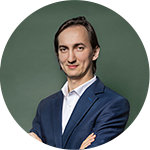 Cristi Moga
Head of Capital Markets
Cushman & Wakefield Echinox
STORIES