Bucharest, June 2023: The large retail chains recorded a total turnover which was 16.3% higher than in 2021, a growth rate that exceeds the average annual inflation rate of 13.8% registered in 2022, according to the Romania Retail Snapshot 2023 study performed by the Cushman & Wakefield Echinox real estate consultancy company, based on the financial results of 114 companies from 12 different segments. All the analyzed retail segments recorded higher y-o-y revenues in 2022, with the largest increases being reported by the Cosmetics (32.9%), F&B (32.5%), and Clothing (24.5%) retailers.
The 12 analyzed sectors are FMCG (major hypermarket/supermarket chains), Clothing, DIY, Sports, Footwear, Kids & Toys, Jewelry, Home & Deco, Food & Beverage, Cosmetics, Electro-IT, and Specialized Stores. Together, the 114 retailers in question have more than 6,000 stores in Romania, located mainly in shopping centers, retail parks, and commercial galleries.
The surveyed retailers registered a cumulative turnover of €32.3 billion in 2022, compared with €27.7 billion in 2021 and with €24.9 billion in 2020.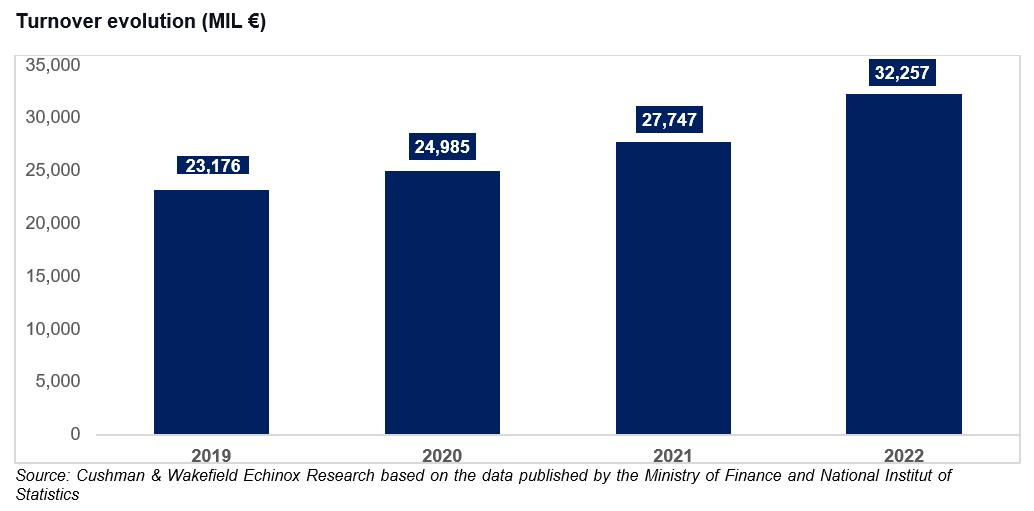 The lowest turnover growth rates in 2022 (below the the average annual inflation level) were reported by the Electro-IT (+3.1%), DIY (+10.3%) and Home & Deco (11.3%) segments.
All the other segments recorded sales' growth rates above inflation: 18.2% FMCG, 16.4% Sports, 21.5% Footwear, 17.8% Kids & Toys, while Jewelry retailers saw a 19% increase, with the Specialized Stores (pet shops, pharmacies, newsstands, tobacco, etc.) reporting a 14.8% increase.
Vlad Săftoiu, Head of Research at Cushman & Wakefield Echinox: "The Romanian retail market has experienced a period marked by the Covid-19 related restrictions, restrictions which initially led to the closure and then to a limited access to shopping centers. Moreover, the market has also encountered a rampant increase of inflation, with consequences on the purchasing power and implicitly on consumption. It is therefore impressive that, despite all these issues, each of the 12 analyzed segments managed to perform better in 2022 compared with 2019, the pre-pandemic year. Moreover, if we examine the data from the entire 2019 – 2022 period, the average CAGR (compound annual growth rate) for the major retail operators was of 11.7%, while the average annual inflation rate during the same timeframe was of 7.1%. Retail has thus continued to be a significant contributor to GDP growth in 2022, a trend which we also noticed in the first quarter of this year."
The average annual sales growth rate from 2019 to 2022 exceeded the average annual price growth rate for most categories, with the sole exception of Footwear retailers (4.3%). On the other hand, the F&B segment experienced the highest surge in this period (13.8%), followed by Cosmetics (13%) and Electro-IT (12.9%).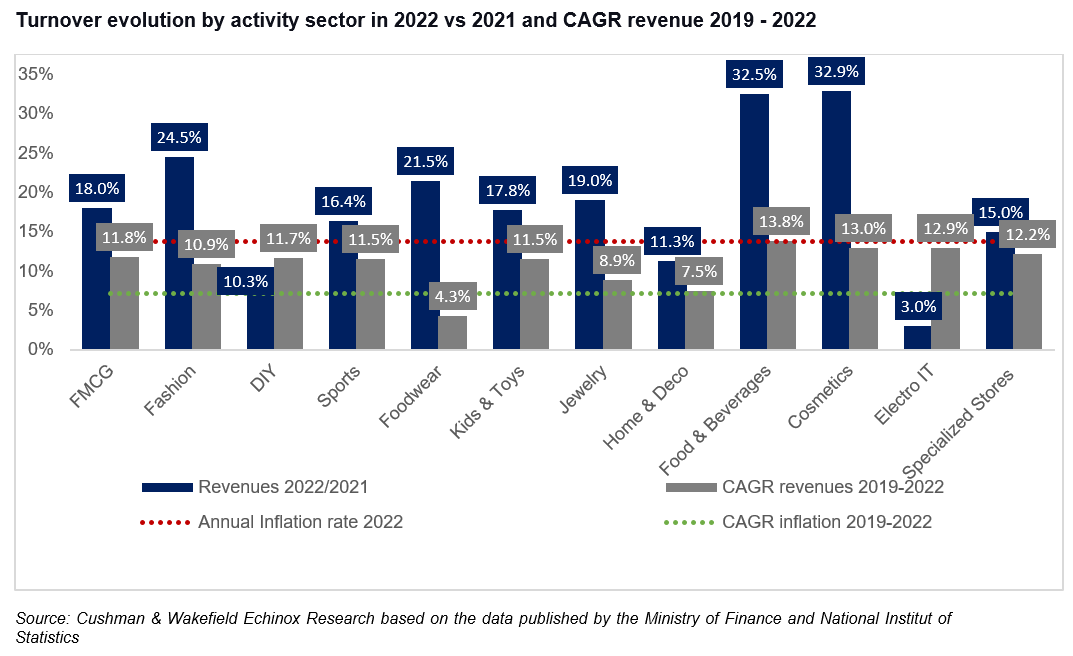 The turnover increases reported by the large retailers was sustained both through expansions and also organically, as a result of a strong recovery of physical stores in 2022, after the pandemic related restrictions were lifted in March of that year.
The retailers' expansion has also come as a result of the investments made by developers (i.e. shopping malls and retail parks) which completed a total of 39 projects between 2019 and 2022, comprising both new schemes and expansions of existing ones, totaling over 500,000 sq. m of new retail spaces.
Cushman & Wakefield Echinox is a leading real estate company on the local market and the exclusive affiliate of Cushman & Wakefield in Romania, owned and operated independently, with a team of over 80 professionals and collaborators offering a full range of services to investors, developers, owners and tenants.
Cushman & Wakefield, one of the global leaders in commercial real estate services, with 52,000 employees in over 60 countries and $ 10.1 billion in revenue, provides asset and investment management consulting services, capital markets, leasing, properties administration, tenant representation. For more information, visit www.cushmanwakefield.com