Bucharest, May 2023: The Center – West area (Politehnica, Orhideea, Cotroceni) has become the largest office hub in Bucharest, overtaking the Floreasca – Barbu Vacarescu submarket in Q1 2023. This situation is expected to remain constant on a medium term at least, given the plans announced by developers, according to data from the Cushman & Wakefield Echinox real estate consultancy company.
The Q1 2023 office supply in Bucharest consisted of the 2nd building of the One Cotroceni Park mixed – use project (34,500 sq. m GLA) developed by One United Properties in the Center – West submarket and also of the Muse building (7,500 sq. m GLA) in the Expozitiei area. The office stock in Bucharest thus reached 3.35 million sq. m at the end of the quarter.
The Center – West area, where almost 300,000 sq. m of new spaces were delivered during the last 3 years, reached a stock of 614,000 sq. m, compared with 589,600 sq. m in Floreasca – Barbu Vacarescu, where the new supply amounted to 132,000 sq. m since 2019.
Dimitrie Pompeiu (440,700 sq. m), Center (412,500 sq. m) and CBD (357,300 sq. m) are the other top 5 office markets in Bucharest.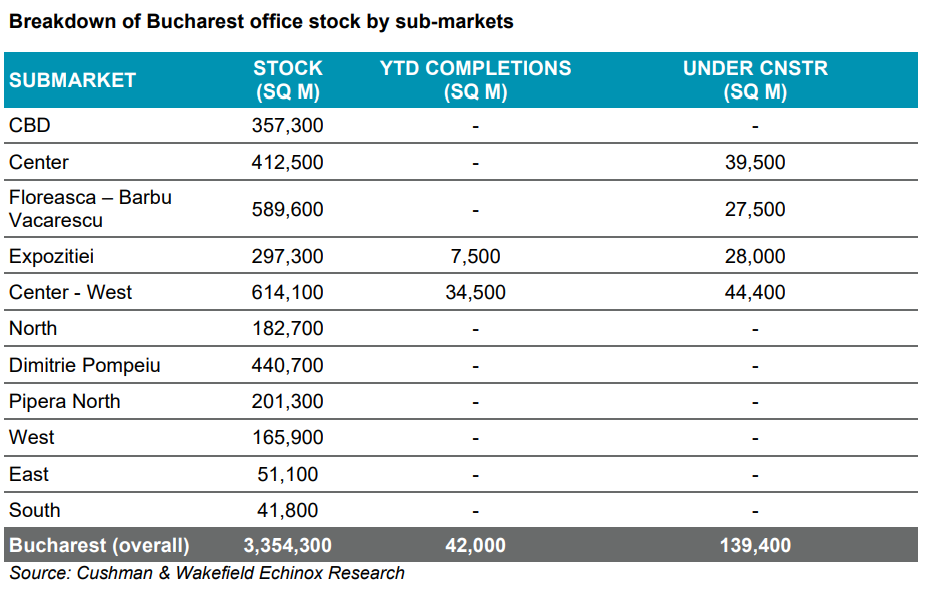 In terms of the Q1 2023 leasing activity, the demand was low, as only 55,800 sq. m were transacted, the lowest level since Q1 2021, while also corresponding to a 31% y-o-y decrease.
Mădălina Cojocaru, Partner Office Agency Cushman & Wakefield Echinox: "The first quarter of 2023 was relatively poor in terms of transactions because it is more difficult to adopt business decisions in an unpredictable economic context. However, the market sentiment remains relatively strong, as a series of important deals are currently under negotiation and the leasing activity is expected to pick up starting from Q2. The pipeline remains limited and therefore the short-term demand will increase the absorption of available spaces, especially those located in easily accessible areas, but also those which are developed according to sustainability standards and certifications".
The vacancy rate in Bucharest decreased to 14.8% in Q1, as a net absorption of almost 40,000 was registered during the quarter at city level.
The evolution of demand in Bucharest follows the trend observed in the other capital cities in the Central and Eastern Europe, a region where the transaction activity has seen a 22% decrease compared with the first quarter of 2022.
A further rental growth was recorded in Q1 2023, with the prime headline rent in the CBD area reaching €21.00/ sq. m/month, a level which reflects an y-o-y increase of 13.5%, while other submarkets should also see such increases especially when it comes to prime assets.
This upward rental movement in Bucharest also comes in a more regional context of higher rental costs throughout CEE, where corresponding benchmarks of €28.5/ sq. m/month, €25/ sq. m/month and €24.5/ sq. m/month were recorded in Prague, Budapest and Warsaw respectively.
Office projects totaling 139,400 sq. m GLA are currently under construction in Bucharest, while other projects cumulating an area of around 300,000 sq. m GLA are under different planning stages, as developers are waiting for the present urbanistic issues in the city to be resolved.
U-Center II, @EXPO II or ARC are some of the most important buildings which are expected to be delivered by the end of 2024, with an unknown pipeline from 2025 onwards considering the mentioned bureaucratic problems related to the Bucharest municipality.
Cushman & Wakefield Echinox is a leading real estate company on the local market and the exclusive affiliate of Cushman & Wakefield in Romania, owned and operated independently, with a team of over 80 professionals and collaborators offering a full range of services to investors, developers, owners and tenants.
Cushman & Wakefield, one of the global leaders in commercial real estate services, with 52,000 employees in over 60 countries and $ 10.1 billion in revenue, provides asset and investment management consulting services, capital markets, leasing, properties administration, tenant representation. For more information, visit www.cushmanwakefield.com