Home | Services | PROJECT MANAGEMENT
Let's Build Your Strategy, Together!
Whether you are an investor or occupier looking for a new or redesigned office, retail, mixed-use, residential or industrial/logistic space, we will bring your project, vision and culture to life, no matter where you do business: our Project Management team will manage the planning, design, fit-out, construct of tenant improvements, capital improvements, ground-up developments, build-to-suits and adapt the workplace to meet your business needs.
Our Project Managers bring a broad perspective to the real estate lifecycle, leading the process from design to construction and usage, minimizing costs, maintaining the required quality and timeline, carrying out works in accordance with the current legal and construction regulations.
We provide construction and portfolio oversight services, including management, capital planning and execution. We offer a seamless and complete range of advisory service:
Project & Development Services, to lead, direct, coordinate and supervise the entire project: site selection and due diligence, project brief and execution plan, building repositioning & modernization, design & construction management, cost management, tender management, construction monitoring.
Fit-Out Management Services on behalf of the Tenant: Planning, Design Management, Tendering, Construction Monitoring, Completion, Hand-over, Authorized Site Inspection, Health and Safety Service.
Tenants Fit-Out Coordination Services on behalf of the Landlord addressed in particular to office, industrial and commercial buildings' Owners.
Technical Due-Diligence, Health and Safety, Environmental Assessment, Structural technical expertise, BOMA measurements, BREEAM, LEED and WELL certifications.
Workplace strategy, including Workplace performance measurement, strategy and concept development, Change Management
Design & Architecture services
CONTACT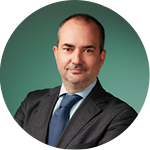 Andrei Ianculescu
Head of Project Management
Cushman & Wakefield Echinox
STORIES